| | |
| --- | --- |
| Features | No Ratings |
| Ease of Use | No Ratings |
| Design | No Ratings |
| Support | No Ratings |
0
no reviews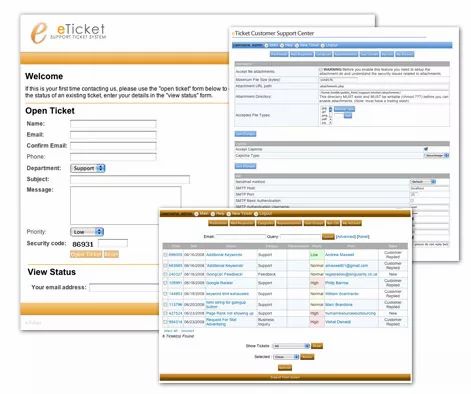 eTicket is a PHP-based electronic support ticket system that can receive tickets via email (pop3/pipe) or a web form. It also offers a ticket manager with many features. An ideal, easy to use and install helpdesk solution for any website or organization.
Software Main Features:
Supports aliases/piping with perl gateway
Supports POP3 login with optional crontab.
Uses Perl gateway, PHP backend, and MySQL database
Handles unlimited emails
Admin/Supporter/User panels
Email Intervals to prevent autoresponder loops
Max Allowed to limit maximum tickets user can have opened
Filters to remove messages in replies
Accept attachments and limit size
User Features:
Login with email and any ticket assigned to you
View all tickets sent from that email
Administration Features:
Completely delete tickets from database
Create categories (departments)
Create Represenatives (Supporters)
Define groups
Edit or disable response messages
Email alerts compatible with pagers
and much more…
Staff Features:
View only tickets in departments you have access to
Can not delete tickets
some screenshots:
ticket submission front:
New tickets window:
work order view:
eTicket is very similar to OSticket – I believe eTicket was born out OSticket, but they are distributed on difference license agreements.  check it out, is pretty cool.
More Open Source Help Desk Software